We believe: childhood is the most essential phase of life and each child needs proper nurture, care, protection, love, fun, learning and lot more to make it worth cherishing.
At Finar Anganwadi Centers, we take the responsibility to create each enrolled child's life full of fun, new learnings & experiences. Children who fall between the age of 3 years to 6 years enjoy their day with their Didis called "Finar Saathi". They dance, learn, play games, sing songs along and grow physically, mentally & emotionally stronger day by day.  Under this initiative we have designed and distributed Uniforms to all the children in 12 different Aanganvadi of 9 Different villages.
We have also planned to provide tasty and healthy food to the kids which can attract them to come to the Aanganvadi and learn something. These kids will be provided a feast every month and around 500 children will benefit from this initiative. We also provide Teaching & Learning Material for the children.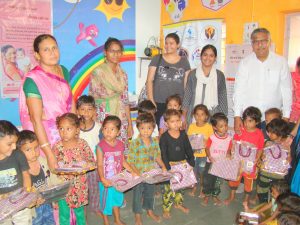 Health Kit distribution at Sreenagar
Party day celebration at Finar Anganwadi